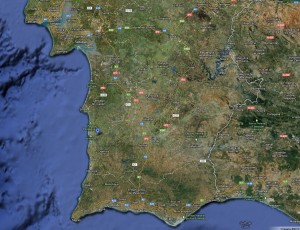 Samonatura is located at the hill 'Samoquerinha'' on the west coast of Portugal, in the province of Alentejo. It is situated about 7 km from the ocean, between Vila Nova de Milfontes and the small village of S. Luís. The property covers 8 hectares, including 5 hectares of pinetrees and 4 hectares of pure nature with great rockeries. Look here for the map on Google Maps
Samonatura is situated at the edge of a protected nature reserve: Parque Naturel do Sudoeste Alentejano e Costa Vicentina.
The reserve stretches from Sines in the north till Sagres in the outermost southwest part of the Algarve (and Europe!). The park offers opportunities for hiking and mountainbiking along the rough coastline, as well as through the hills in the surrounding area. There are possibilities for horse riding and a guided tour at our dairy farm can also be arranged.
Climate in Portugal
The advantage of this part of Portugal is its mild climate; winters are not as cold and summers not as hot as more inland located areas. Average temperatures range from 26-28 degrees in summer. Additionally, a cool sea breeze is present all the time. We warmly invite you for a visit, which we think will be worthwhile. We are looking forward to your arrival and we would really like you to enjoy the unspoiled peace of Portugal!
The Alentejo region is a hilly area between the Tagus and the Algarve, which provides a very diverse landscape with forests, beaches and agriculture. Many brooding storks and impressive lakes (among others the famous Santa Clara reservoir) can be seen in this region. Alentejo is the county with the largest area of Portugal (26.000km2), while it has the lowest number of citizens per km2. This feature makes the feeling of consensus still being deeply present. All landscapes are beautiful and very diverse; the coastline is very rough and has high cliffs where the Atlantic Ocean is a force. Several of the beaches are naturist, and within easy reach – a drive of only 20minutes – from Samonatura.